Big offers by big casinos this month.
September has been a good month for free spins promotions. You can find the best free spins promotions here  . However there are still plenty of tasty promotions that some of our top casino partners have to offer right now. Today we will be focusing on showcasing some of the best promotions from the big boys. Sky Casino and Coral have some offers that you should not pass up on.
It's almost the weekend and there are some attractive bonuses that you can enjoy just to make that weekend a little bit brighter.
Sky Casino
I am sure you are no stranger to Sky who are one of the biggest media companies in the UK. Their gaming division has been offering a range of ways to bet on sports, and poker and now with their fairly newly launched casino division, they now offers a whole new range of ways to play on live casino games.
Choose your champion
It's America vs Europe in this exciting promotion where you'll have the choice to back either USA or Europe to win the Ryder Cup. However it has a twist. The Avengers will be representing USA and Age of the Gods will be repping Europe. Firstly opt in to take part in the promotion here https://www.skycasino.com/promotion/39501/ryder-cup-choose-your-champion . Then play The Avengers slot game to back USA or play the Age of the Gods slot game to back Europe. Interesting promotion to say the least!
Cash out boost

Betting on a live footy match? Cashing out at the last minute when you have bet on Tottenham to beat Man City 1-0 when Tottenham are winning 1-0, only to find 3 minutes later Aguero hits double to lead Man City into a 2-1 late dramatic win can be satisfying. Knowing that you made the right call at the right time to cash out leaves you with great relief and joy. Well it has just got better, if you cash out to win £10 (profit) or more, Sky bet will grant you 5 gold chips to use at Sky Casino!
BetFair Casino
Betfair Casino is a brand that is well known online. They are no strangers to online casino, and regarded as one of the bigger boys in the UK. Betfair have a warm welcoming bonus that splits off to two choices.
The first option lets you claim a 100% match up bonus and receive up to £100 to use in any eligible game. Slots or popular casino games meaning that if you get bored with one game, or like to switch it up, this promotion is for you.
The second option is exclusive to slot games. However with this offer, you can claim a 100% match up bonus and receive up to £1000 and an additional 10 free spins on their huge selection of slots.
Another welcome bonus is exclusive to their casino games. Play on a casino game and instantly receive £10 to use on a huge variety of casino games, which also includes live casino if that is more of your thing.
Age of the Gods: Goddess of Wisdom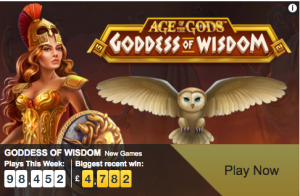 This brand new slots game with BetFair Casino has had over 98000 plays this week proving that this game has been a success and popular amongst BetFair Casino players.